Reading Programme is being conducted once a week in the classroom as a Teacher-Assisted programme. The objective of the programme is to encourage reluctant readers to develop in them the interest of reading books besides prescribed curriculum text. Scaffolding methods will be applied by teachers to build students' confidence in reading. Library period is institutionalised within curriculum at all levels for students once a week so as to promote the reading habit of the students as well as getting exposed to different types of texts and contents.
Speaking and Creativity Activities Programmes comprise speaking and presentation skills.
"Come On, Let's Speak in Tamil" module is being conducted every Saturday as part of enrichment programme to promote Tamil speaking amongst students who come from English speaking background.
As post-examination programmes, the students get involved in Library Week, Poetry Writing, Oratorical Competition, Singing Competition, and Debate. Other TL Centres are also invited to join the activities.
Students are encouraged to deejay at the Media Studio to improve their speaking skills. The potential students are identified to be emcees during centre events.
Tamil Touch Typing programme is made compulsory for all Secondary One and two students to get them familiarize with the Tamil keyboard. This is essential for students as they are expected to do home-based lessons if necessary.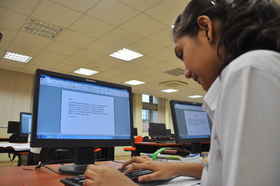 Overseas Immersion Programme is a strategic programme aimed at providing TL secondary students with the opportunity to be nurtured with the Indian culture and tradition. Students were involved in the classroom learning and were able to know and understand the culture and tradition practised in India. This programme has enthused them to learn Tamil meaningfully and networking with students of India. The programme is also supported by the Tamil Language Learning and Promotion Committee (TLLPC), formed by MOE. UPTLC has carried out overseas immersion programmes at Tamilnadu (Chennai, Madurai, Trichy and Coimbatore) between 2007 and 2011.
Leveraging technology for convenient access of Tamil lessons
Learning Management System (LMS)
Set up to provide an opportunity for UPTLC students to be effectively engaged in the learning of TL via Internet. Students get access to lessons via the students' portal to do home-based lessons.
Click here to access LMS.